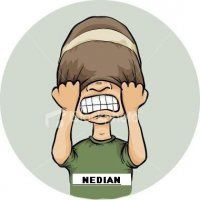 As the summer vacations proceed to a full stop, I am left in a bad mood. I do not want, once again, to follow the tight 'uni-life' schedule. In all these 40 heavenly days, I have hardly experienced any fresh air of the morning hours, rather, I used to wake up when the sun was out there bright and lustrous! Now, even the thoughts of bestirring myself before 7 a.m, walking along the long, never-ending paths of university under the scorching beams of Sun and bearing the six to seven 40 minutes of torture (lectures) per day, give me butterflies in my stomach. Thoughts of living in the midst of the examinations and tests are terrifying and dreadful. I loved the independence, the leisure and my quality time with the television during this break. I do not want my tv to get isolated, neither do I want that leisure to leave me so soon.
All in all, these off-hours were hell of a hectic schedule to manage. The captivating World Cup along with Wimbledon, Asia Cup, Pak-Aus cricket series and Coke Studio are some of the few entanglements which kept the days rocking via the small screen. The blockbusters released, the music videos and singles out, the long hours on social networking sites, the blogging hours, the countless hangouts with friends, the cricket and football evenings, the Paulo Coelho's and Stephen King 's novels, the internet and the magazines were the main luxuries of these golden days. Non-stop fun, right? Ah! I wish I had more of such a spare time!
Regarding the studies, course books count as the most ignored material of these days. From my side, they remained, untouched, on the shelves all the way through the holidays. It is pitiful. Yeah, I know! I do also regret their passive behavior throughout but do not blame me! Blame the time which kept me unconscious and passed in a jiffy.
More than half of the day would get passed in the varsity now. The rest of the time would get to see me doing the assignments instead of blogging, presentations in lieu of watching television, solving numericals in place of social networking and reading the electrical circuits and drilling engineering books rather than the "inspiring Coelho's works" or "King's fictional masterpieces"! Poor me! =(